Laboratory Of Translational Oncology
Last modified:
2022, July 20 - 12:04pm
PROFILE
The research of our team focuses on biology of cancer, especially on better understanding of factors underlying metastatic spread, particularly in cancer cell dissemination via lymphatic and hematogenous route. This includes dissecting the role of tumor-stroma crosstalk, profiling circulating tumor cells (CTCs), circulating tumor DNA (ctDNA) and tumour educated platelets (TEPs). We are interested in discovering the role of epithelial-mesenchymal phenotypic plasticity on tumour cells malignancy and cancer progression. The laboratory is specializing in the analysis of tumor cells at genomic and transriptomic level using qPCR, next generation sequencing or NanoString, also at single cell-level. We apply multi-color imaging with standard immunofluorescence or high throughput techniques such as Image Stream for profiling of CTCs and immunochistochemical profiling of tissues. Our team is experienced in carrying out projects related to biobanking, development and validation of novel blood-based assays, diagnostic or prognostic biomarkers in order to monitor disease progression and response to the therapy more precisely. In our interdisciplinary projects we collaborate closely with clinicians, pathologists, statisticians and molecular biologists in order to obtain multifaceted view on cancer. The research of the team is situated at the edge of molecular biology and clinical oncology with mission to translate results obtained in the laboratory into clinical practice, contributing to more effective individualized patient management.
RESEARCH TEAM
Laboratory Of Translational Oncology
Intercollegiate Faculty of Biotechnology UG&MUG
Dębinki 1 Street, 80-211 Gdańsk, Poland
Secretariat:
Agnieszka Romel-Zielke [e-mail]
Emilia Litmanowicz [e-mail]
​Tel.:+48 58 349 14 38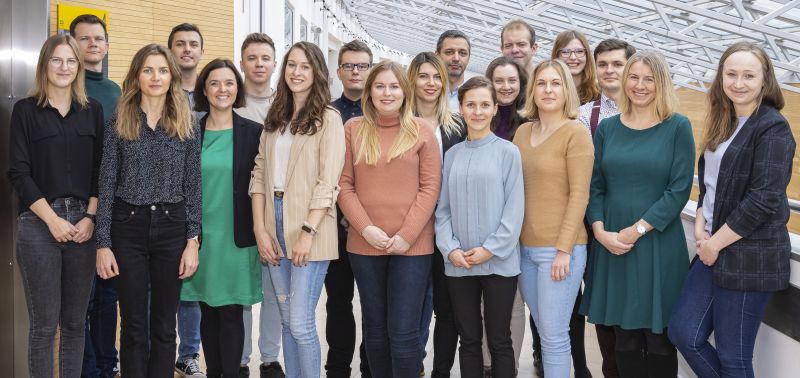 photo: Paweł Sudara
Head: prof. Anna Żaczek [link]
Tel.: +48 58 349 1410 [e-mail]
List of Employees and PhD students:
dr Natalia Bednarz-Knoll
tel:.: +48 58 349 14 38 [e-mail]
dr Aleksandra Markiewicz
tel.: +48 58 349 14 38 [e-mail]
dr Anna Supernat
tel.:: +48 58 349 14 38 [e-mail]
PUBLICATIONS
Panasiuk Mirosława, Zimmer Karolina, Czarnota Anna, Narajczyk Magdalena, Peszyńska-Sularz Grażyna, Chraniuk Milena, Hovhannisyan Lilit, Żołędowska Sabina, Nidzworski Dawid, Żaczek Anna, Gromadzka Beata. Chimeric virus-like particles presenting tumour-associated MUC1 epitope result in high titers of specific IgG antibodies in the presence of squalene oil-in-water adjuvant: towards safe cancer immunotherapy. Journal of Nanobiotechnology 2022, 20(1): 160 (doi: 10.1186/s12951-022-01357-1)

Topa Justyna, Grešner Peter, Żaczek Anna, Markiewicz Aleksandra. Breast cancer circulating tumor cells with mesenchymal features—an unreachable target? Cellular and Molecular Life Sciences 2022, 79: 2 (doi: 10.1007/s00018-021-04064-6)

Popęda Marta, Markiewicz Aleksandra, Stokowy Tomasz, Szade Jolanta, Niemira Magdalena, Kretowski Adam, Bednarz-Knoll Natalia, Żaczek Anna J.. Reduced expression of innate immunity-related genes in lymph node metastases of luminal breast cancer patients. Scientific Reports 2021, 11(1): 5097 (doi: 10.1038/s41598-021-84568-0)

Pantano Francesco, Croset Martine, Driouch Keltouma, Bednarz-Knoll Natalia, Iuliani Michele, Ribelli Giulia, Bonnelye Edith, Wikman Harriet, Geraci Sandra, Bonin Florian, Simonetti Sonia, Vincenzi Bruno, Hong Saw See, Sousa Sofia, Pantel Klaus, Tonini Giuseppe, Santini Daniele, Clézardin Philippe. Integrin alpha5 in human breast cancer is a mediator of bone metastasis and a therapeutic target for the treatment of osteolytic lesions. Oncogene 2021, 40(7): 1284-1299 (doi: 10.1038/s41388-020-01603-6)

Nastały Paulina, Stoupiec Sara, Popęda Marta, Smentoch Julia, Schlomm Thorsten, Morrissey Colm, Żaczek Anna J., Beyer Burkhard, Tennstedt Pierre, Graefen Markus, Eltze Elke, Maiuri Paolo, Semjonow Axel, Pantel Klaus, Brandt Burkhard, Bednarz-Knoll Natalia. EGFR as a stable marker of prostate cancer dissemination to bones. British Journal of Cancer 2020, 123(12): 1767-1774(doi: 10.1038/s41416-020-01052-8)
Kunc Michał, Popęda Marta, Niemira Magdalena, Szałkowska Anna, Bieńkowski Michał, Peksa Rafał, Lacko Aleksandra, Radecka Barbara S., Braun Marcin, Pikiel Joanna, Litwiniuk Maria, Pogoda Katarzyna, Izycka-Swieszewska Ewa, Kretowski Adam, Żaczek Anna J., Biernat Wojciech, Senkus-Konefka Elzbieta. microRNA Expression Profile in Single Hormone Receptor-Positive Breast Cancers is Mainly Dependent on HER2 Status-A Pilot Study. Diagnostics 2020, 10(9): 617 (doi:10.3390/diagnostics10090617)
Bieńkowski Michał, Peksa Rafał, Popęda Marta, Kolaczkowska Magdalena, Frankiewicz Anna, Żaczek Anna, Gruchała Marcin, Biernat Wojciech, Siondalski Piotr. Liquid biopsy for minimally invasive heart transplant monitoring: a pilot study. Journal of Clinical Pathology 2020, 73(8): 507-510 (doi:10.1136/jclinpath-2019-205926)
Fabisiewicz Anna, Szostakowska-Rodzos Malgorzata, Żaczek Anna J., Grzybowska Ewa A.. Circulating Tumor Cells in Early and Advanced Breast Cancer; Biology and Prognostic Value. International Journal of Molecular Sciences 2020, 21(5): 1671 (doi: 10.3390/ijms21051671)
Brandt Burkhard H., Bednarz-Knoll Natalia, Kleinheinz Johannes, Franke Andre, Fillies Thomas. RE: Oral Leukoplakia and Risk of Progression to Oral Cancer: A Population-Based Cohort Study. JNCI-Journal of the National Cancer Institute 2020, 112(9): 968-969 (doi: 10.1093/jnci/djaa074)
Montfort Anne, Owen Stephanie, Piskorz Anna M., Supernat Anna, Moore Luiza, Al-Khalidi Sarwah, Bohm Steffen, Pharoah Paul, McDermott Jacqueline, Balkwill Frances R., Brenton James D. Combining measures of immune infiltration shows additive effect on survival prediction in high-grade serous ovarian carcinoma. British Journal of Cancer 2020, (w druku) (doi: 10.1038/s41416-020-0822-x)

Markiewicz Aleksandra

, Topa Justyna, Nagel Anna, Skokowski Jarosław, Seroczynska Barbara, Stokowy Tomasz, Welnicka-Jaskiewicz Marzena, Żaczek Anna J.. Spectrum of Epithelial-Mesenchymal Transition Phenotypes in Circulating Tumour Cells from Early Breast Cancer Patients. Cancers 2019, 11(1): 59 (

doi: 10.3390/cancers11010059

)

Nagel Anna

, Szade Jolanta, Iliszko Mariola, Elzanowska Julia, Welnicka-Jaskiewicz Marzena, Skokowski Jarosław, Stasiłojć Grzegorz, Bigda Jacek, Sądej Rafał, Żaczek Anna, Markiewicz Aleksandra. Clinical and Biological Significance of ESR1 Gene Alteration and Estrogen Receptors Isoforms Expression in Breast Cancer Patients. International Journal of Molecular Sciences 2019, 20(8): 1881 (

doi: 10.3390/ijms20081881

)

Ouyang Fuzhong, Yu Tianrong, Gu Chao, Wang Guanghui, Shi Rui, Lv Rui, Wu Enhui, Ma Chongqing, Guo Ruochen, Li Jing, Żaczek Anna, Liu Jian. Sensitive detection of caspase-3 enzymatic activities and inhibitor screening by mass spectrometry with dual maleimide labelling quantitation. Analyst 2019, 144(22): 6751-6759 (

doi: 10.1039/c9an01458f

)

Popęda Marta

, Stokowy Tomasz, Bednarz-Knoll Natalia, Jurek Anna, Niemira Magdalena, Bielska Agnieszka, Kretowski Adam, Kalinowski Leszek, Szade Jolanta, Markiewicz Aleksandra, Żaczek Anna . NF-kappa B Signaling-Related Signatures Are Connected with the Mesenchymal Phenotype of Circulating Tumor Cells in Non-Metastatic Breast Cancer. Cancers 2019, 11(12): 1961 (

doi: 10.3390/cancers11121961

)

Szade Jolanta, Majewska Hanna, I., Żaczek Anna, Biernat Wojciech. High-grade non-small cel lung carcinoma: a comparative analysis of the phenotypic profile in small biopsies with the corresponding postoperative material. Polish Journal of Pathology 2019, 70(2): 100-108 (

doi: 10.5114/PJP.2019.84087

)

Czaplińska Dominika, Górska Monika, Mieczkowski Kamil,

Peszynska-Sularz Grazyna, Żaczek Anna J., Romanska Hanna M., Sądej Rafał, RSK1 promotes murine breast cancer growth and metastasis. Folia Histochemica et Cytobiologica 2018, 56(1): 11-20 (

doi: 10.5603/FHC.a2018.0001

)

Filipska Martyna

, Skrzypski Marcin, Czetyrbok Katarzyna, Stokowy Tomasz, Stasiłojć Grzegorz, Supernat Anna, Jassem Jacek, Żaczek Anna J., Bigda Jacek. MiR-192 and miR-662 enhance chemoresistance and invasiveness of squamous cell lung carcinoma. Lung Cancer 2018, 118: 111-118 (

doi: 10.1016/j.lungcan.2018.02.002

)

Markiewicz Aleksandra, Nagel Anna

, Szade Jolanta, Majewska Hanna, Skokowski Jaroslaw, Seroczynska Barbara, Stokowy Tomasz, Welnicka-Jaskiewicz Marzena, Żaczek Anna J. Aggressive Phenotype of Cells Disseminated via Hematogenous and Lymphatic Route in Breast Cancer Patients. Translational Oncology, 2018, 11(3): 722-731 (

doi: 10.1016/j.tranon.2018.03.006

)

Shen Rui, Liu Peipei, Zhang Yiqiu, Yu Zhao, Chen Xuyue, Zhou Lu, Nie Baoqing, Żaczek Anna J., Chen Jian, Liu Jian. Sensitive detection of single-cell secreted H2O2 by integrating a microfluidic droplet sensor and Au nanoclusters. Analytical Chemistry 2018, 90(7): 4478-4484 (

doi: 10.1021/acs.analchem.7b04798

)

Markiewicz Aleksandra, Żaczek Anna J.

The Landscape of Circulating Tumor Cell Research in the Context of Epithelial-Mesenchymal Transition. Pathobiology 2017, 84(5): 264-283 (

doi: 10.1159/000477812

)

Czapiewski Piotr, Bobowicz Maciej, Peksa Rafal, Skrzypski Marcin, Gorczynski Adam, Szczepanska-Michalska Kamila-Korwat Aleksandra, Jankowski Michal, Zegarski Wojciech, Szulgo-Paczkowska Anna, Polec Tomasz, Piatek Michal, Skokowski Jaroslaw, Haybaeck, Johannes, Żaczek Anna J., Biernat Wojciech. Kreatin 7 expression in lymph node metastases but not in the primary tumor correlates with distant metastases and poor prognosis in colon carcinoma. Polish Journal of Pathology 2016, 67: 228-234 (

doi: 10.5114/PJP.2016.63774

)

Czaplińska Dominika

, Mieczkowski Kamil, Supernat Anna, Skladanowski Andrzej C., Kordek Radzislaw, Biernat Wojciech, Żaczek Anna J., Romanska Hanna M., Sądej Rafał. Interactions between FGFR2 and RSK2—implications for breast cancer prognosis, Tumor Biology 2016, 37: 13721-13731 (

doi: 10.1007/s13277-016-5266-9

)

Łapińska-Szumczyk Sylwia, Supernat Anna, Żaczek Anna, Majewska Hanna, Gulczyński Jacek, Sawicki Sambor, Biernat Wojciech, Wydra Dariusz. Endometrial cancer in patients after previous neoplasmatic disease – clinical and molecular aspects. Ginekologia Polska 2016, 87(2): 88-93 (

doi: 10.17772/gp/60559

)

Łuczak Agata, Supernat Anna

, Łapińska-Szumczyk Sykwia, Jachimowicz Daniel, Majewska Hanna, Gulczyński Jacek , Żaczek Anna. HOTAIR in relation to epithelial-mesenchymal transition and cancer stem cells in molecular subtypes of endometrial cancer. International Journal of Biological Markers 2016, 31(3): e245-e251 (

doi: 10.5301/jbm.5000187

)

Piasecka Dominika, KitowskaKamila, Czaplinska Dominika, Mieczkowski Kamil, Mieszkowska Magdalena, Turczyk Łukasz, Składanowski Andzej C., Żaczek Anna J.

, Biernat Wojciech, Kordek Radzisław, Romanska Hanna M., Sądej Rafał. Fibroblast growth factor signalling induces loss of progesterone receptor in breast cancer cells. Oncotarget 2016, 7(52): 86011-86025 (

doi: 10.18632/oncotarget.13322

)

Bednarz-Knoll Natalia, Nastały Paulina,

Żaczek Anna

, Stoupiec Małgorzata, Riethdorf Sabine, Wikman Harriet, Müller Volkmar, Skokowski Jarosław, Szade Jolanta, Sejda Aleksandra, Wełnicka-Jaśkiewicz Marzena, Pantel Klaus. Stromal expression of ALDH1 in human breast carcinomas indicates reduced tumor progression. Oncotarget 2015, 6(29): 26789-26803 (

doi: 10.18632/oncotarget.4628

).

apiewski Piotr, Wełnicka-Jaśkiewicz Marzena, Seroczyńska Barbara, Skokowski Jarosław, Sejda Aleksandra, Szade Jolanta, Wiewiora Claudia, Biernat Wojciech,

Żaczek Anna

. CD99 correlates with low cyclin D1, high topoisomerase 2α status and triple negative molecular phenotype but is prognostically irrelevant in breast carcinoma. Polish Journal of Pathology 2015, 66(3): 269-275 (

doi: 10.5114/pjp.2015.54961

).

Łapińska-Szumczyk Sylwia M.,

Supernat Anna M.

, Majewska Hanna I., Gulczyński Jacek, Biernat Wojciech, Wydra Dariusz, Żaczek Anna J. Immunohistochemical characterisation of molecular subtypes in endometrial cancer. International Journal of Clinical and Experimental Medicine 2015, 8(11): 21981-21990

Czaplińska Dominika

, Turczyk Łukasz, Grudowska Alicja, Mieszkowska Magdalena, Lipińska Andrea D., Składanowski Andrzej C., Żaczek Anna J., Romańska Hanna M., Sądej Rafał. Phosphorylation of RSK2 at Tyr529 by FGFR2-p38 enhances human mammary epithelial cells migration. Biochimica et Biophysica Acta-Molecular Cell Research 2014, 1843(11): 2461-2470 (

doi: 10.1016/j.bbamcr.2014.06.022

).

Łapińska-Szumczyk Sylwia, Supernat Anna, Majewska Hanna, Gulczyński Jacek, Łuczak Agata, Biernat Wojciech, Wydra Dariusz, Żaczek Anna J. HER2-positive endometrial cancer subtype carries poor prognosis. CTS-Clinical and Translational Science 2014, 7(6): 482-488 (

doi: 10.1111/cts.12207

).

Łapińska-Szumczyk Sylwia, Supernat Anna, Żaczek Anna J., Majewska Hanna, Gulczyński Jacek, Sawicki Sambor, Biernat Wojciech, Wydra Dariusz. Rak błony śluzowej trzonu macicy u młodych kobiet – aspekty kliniczne i molekularne [Endometrial cancer in young women - clinical and molecular aspects]. Ginekologia Polska 2014, 85(9): 754-759.

Markiewicz Aleksandra

, Wełnicka-Jaśkiewicz Marzena, Seroczyńska Barbara, Skokowski Jarosław, Majewska Hanna, Szade Jolanta, Żaczek Anna J. Epithelial-mesenchymal transition markers in lymph node metastases and primary breast tumors - Relation to dissemination and proliferation. American Journal of Translational Research 2014, 6(60: 793-808 (

pdf

).

Markiewicz Aleksandra

, Książkiewicz Magdalena, Wełnicka-Jaśkiewicz Marzena, Seroczyńska Barbara, Skokowski Jarosław, Szade Jolanta, Żaczek Anna J. Mesenchymal phenotype of CTC-enriched blood fraction and lymph node metastasis formation potential. PLoS ONE 2014, 9(4): art. no e93901 (1-11) (

doi: 10.1371/journal.pone.0093901

).

Senkus Elżbieta, Szade Jolanta, Pieczyńska Beata, Żaczek Anna, Pikiel Joanna, Sosińska-Mielcarek Katarzyna, Karpińska Agnieszka, Jassem Jacek. Are synchronous and metachronous bilateral breast cancers different? An immunohistochemical analysis aimed at intrinsic tumor phenotype. International Journal of Clinical and Experimental Pathology 2014, 7(1): 353-363 (

pdf

).

Senkus Elżbieta, Szade Jolanta, Pieczyńska Beata, Żaczek Anna, Świerblewski Maciej, Biernat Wojciech, Jassem Jacek. Are bilateral breast cancers and breast cancers coexisting with ovarian cancer different from solitary tumors? A pair-matched immunohistochemical analysis aimed at intrinsic tumor phenotype. Pathology International 2014, 64(10): 508-517 (

doi: 10.1111/pin.12202

).

Supernat Anna

, Łapińska-Szumczyk Sylwia, Majewska Hanna, Gulczyński Jacek, Biernat Wojciech, Wydra Dariusz, Żaczek Anna J. A multimarker qPCR platform for the characterisation of endometrial cancer. Oncology Reports 2014, 31(2): 1003-1013 (

doi: 10.3892/or.2013.2924

).

Supernat Anna

, Łapińska-Szumczyk Sylwia, Majewska Hanna, Gulczyński Jacek, Biernat Wojciech, Wydra Dariusz, Żaczek Anna J. Tumor Heterogeneity at Protein Level as an Independent Prognostic Factor in Endometrial Cancer. Translational Oncology 2014, 7(5): 613-619 (

doi: 10.1016/j.tranon.2014.06.001

).

Markiewicz Aleksandra, Książkiewicz Magdalena,

Seroczyńska Barbara, Skokowski Jarosław, Szade Jolanta, Wełnicka-Jaśkiewicz Marzena, Żaczek Anna J. Heterogeneity of mesenchymal markers expression-molecular profiles of cancer cells disseminated by lymphatic and hematogenous routes in breast cancer. Cancers 2013, 5(4): 1485-1503

Markiewicz Aleksandra,

Wełnicka-Jaśkiewicz Marzena, Skokowski Jarosław, Jaśkiewicz Janusz, Szade Jolanta, Jassem Jacek, Żaczek Anna J. Prognostic Significance of ESR1 Amplification and ESR1 PvuII, CYP2C19*2, UGT2B15*2 Polymorphisms in Breast Cancer Patients. PLoS ONE 2013, 8(8): art. no: e72219 (1-10)

Senkus Elżbieta, Szade Jolanta, Pieczyńska Beata, Żaczek Anna, Brożek Izabela, Radecka Barbara, Kowalczyk Anna, Wełnicka-Jaśkiewicz Marzena, Jassem Jacek. Are bilateral breast cancers different from breast cancers coexisting with ovarian cancer? An immunohistochemical analysis aimed at intrinsic tumor phenotype. Breast 2013, 22(4): 425-430

Supernat Anna,

Łapińska-Szumczyk Sylwia, Majewska Hanna, Gulczyński Jacek, Biernat Wojciech, Wydra Dariusz, Żaczek Anna J. Epithelial-mesenchymal Transition and Cancer Stem Cells in Endometrial Cancer. Anticancer Research 2013, 33(12): 5461-5469

Książkiewicz Magdalena, Markiewicz Aleksandra,

Żaczek Anna J. Epithelial-mesenchymal transition: A hallmark in metastasis formation linking circulating tumor cells and cancer stem cells. Pathobiology 2012, 79(4): 195-208

Markiewicz Aleksandra,

Ahrends Tomasz, Wełnicka-Jaśkiewicz Marzena, Seroczyńska Barbara, Skokowski Jarosław, Jaśkiewicz Janusz, Szade Jolanta, Biernat Wojciech, Żaczek Anna. Expression of epithelial to mesenchymal transition-related markers in lymph node metastases as a surrogate for primary tumor metastatic potential in breast cancer. Journal of Translational Medicine 2012, 10: art. no 226 (1-12)

Supernat A.

, Łapińska-Szumczyk S., Sawicki S., Wydra D., Biernat W., Żaczek A. Deregulation of RAD21 and RUNX1 expression in endometrial cancer. Oncology Letters 2012, 4(4): 727-732

Supernat Anna,

Markiewicz Aleksandra, Wełnicka-Jaśkiewicz Marzena, Seroczyńska Barbara, Skokowski Jarowsław, Sejda Aleksandra, Szade Jolanta, Czapiewski Piotr, Biernat Wojciech, Żaczek Anna. CD73 Expression as a Potential Marker of Good Prognosis in Breast Carcinoma. Applied Immunohistochemistry & Molecular Morphology 2012, 20(2): 103-107

Żaczek A.J.

, Markiewicz A., Seroczyńska B., Skokowski J., Szade J., Jaśkiewicz J., Pieńkowski T. Olszewski W.P., Rhone P., Wełnicka-Jaśkiewicz M., Jassem J. Prognostic significance of TOP2A gene dosage in HER2-negative breast cancer. Oncologist 2012, 17(10): 1246-1255

Żaczek Anna,

Markiewicz Aleksandra, Supernat Anna, Bednarz-Knoll Natalia, Brandt Burkhardt, Seroczyńska Barbara, Skokowski Jarosław, Szade Jolanta, Czapiewski Piotr, Biernat Wojciech, Wełnicka-Jaśkiewicz Marzena, Jassem Jacek. Prognostic Value of TOP2A Gene Amplification and Chromosome 17 Polysomy in Early Breast Cancer. Pathology & Oncology Research 2012, 18(4): 885-894

Supernat Anna

, Wełnicka-Jaśkiewicz Marzena, Żaczek Anna. Farmakogenetyka w hormonoterapii raka piersi [Pharmacogenetics in breast cancer hormone therapy]. Współczesna Onkologia (Contemporary Oncology) 2010, 14(4): 242-247