You are here
Dr Ewelina Król are ranked among '50 bold women of 2019' in Gazeta Wyborcza's Wysokie Obcasy magazine
Dr Ewelina Król has been recognized for "her work on innovative vaccines"
Dr Ewelina Król: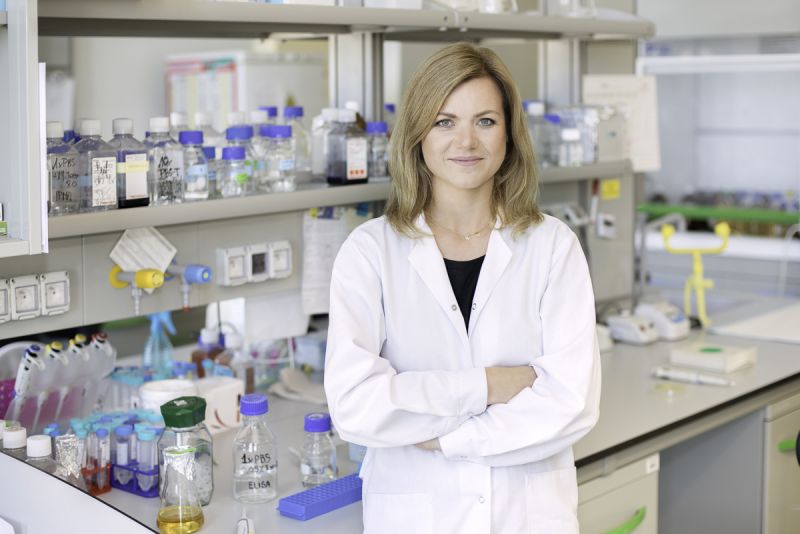 "is working on vaccines against Zika and tick-borne encephalitis viruses." She received this year's scholarship in the 19th edition of the L'Oréal-UNESCO For Women and Science program for "developing innovative strategies for combating viral infections in humans with particular emphasis on hepatitis C virus, tick-borne encephalitis virus and Zika virus through the use of chemically synthesized therapeutic agents and new-generation vaccines".
Zika virus and tick-borne encephalitis virus belong to the genus of flaviviruses which also includes such dangerous viruses as dengue, yellow fever or West Nile fever virus. They are transmitted to people by mosquitoes, ticks etc. While vaccination is the best way to fight viruses, it is difficult to develop vaccines against flaviviruses because they are similar to each other and appear in similar regions of the world. Antibiotics do not affect them.
Dr Ewelina Król and her team are trying to develop innovative vaccines based on virus-like particles (VLP). They are empty protein capsules - the very "packaging" of the virus without its genetic material. Because there are no VLP- based flavivirus vaccines on the market, the virologist boldly participates in the race for a breakthrough".
The ranking also lists Olga Tokarczuk, Magdalena Środa, Sonia Bohosiewicz, Martyna Wojciechowska and Agnieszka Holland.
The complete list can be found here
Photo by Magdalena Trebert
Last modified by: Maria Maja Pega
Created by: Maria Maja Pega
Last modified:
2020, January 8 - 9:29am
Post date:
2020, January 8 - 9:25am