You are here
Project ALLIANCE – blue biotechnology in the Baltic Sea Region
We are pleased to inform that the University of Gdańsk is partner of the ALLIANCE project, funded from the INTERREG BSR Programme. The project will integrate partners from the Baltic Sea Region who work and are interested in blue biotechnology.
Cooperation between research institutes, laboratories, parks and companies will provide all interested parties with a wide access to expertise, infrastructure and services necessary for the development of innovative products based on marine resources. Partner organisations from Baltic Sea Region will map and attract potential users from the private sector to develop further in the area of blue biotechnology. The objective of ALLIANCE is initiating a long-term cooperation and a systematic exchange of on scientific, marketing and industrial level. Together with end-users – potential and existing companies – the project will support the implementation of best international biotech solutions based on infrastructure and expertise from different countries of the Baltic Sea Region.
ALLIANCE will integrate institutions from 10 European countries: Germany, Sweden, Finland, Estonia, Denmark, Lithuania, Latvia, Portugal, UK and Poland.
Project partners are:
Niemcy

GEOMAR Helmholtz Centre for Ocean Research (coordinator)

SUBMARINER Network for Blue Growth EEIG

BioCon Valley GmbH

CRM Coastal Research & Management

Ernst Moritz Arndt University of Greifswald (EMAUG)

Polska

Uniwersytet Gdanski

Pomorska Specjalna Strefa Ekonomiczna sp. z o.o.

Svanvid Sp. z o.o.

Biovento Sp. z o.o.

Litwa

Public institution Coastal Research and Planning Institute (CORPI)

Klaipeda Science and Technology Park (KSTP)

JSC "Geoterma" UAB

Łotwa

Latvian Biotechnology Association (LBA)

JSC "Baltic Probiotics"

Environmental Development Association (EDA)

Dania

AgroTech A/S AgroTech A/S

Kalundborg Utility A/S

Szwecja

Royal Institute of Technology KTH

Göteborgs Universitet

Finlandia

Finnish Environment Institute (SYKE)

Estonia

Tartu Biotechnology Park

Portugalia

CIIMAR Interdisciplinary Centre of Marine and Environmental Research

Wielka Brytania

Scottish Association for Marine Science (SAMS)
At the University of Gdańsk the project will be implemented by the Faculty of Oceanography and Geography, the Intercollegiate Faculty of Biotechnology UG & MUG, BRC Gdańsk and the Technology Transfer Office and during its further phases also experts from other faculties will be invited to cooperate.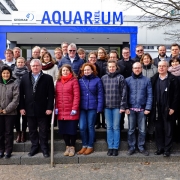 Last modified by: Katarzyna Maczyszyn
Created by: Katarzyna Maczyszyn
Last modified:
2016, March 21 - 1:03pm
Post date:
2016, March 14 - 9:44am